The construction of tidal marshes and river diversions that reconnect the Mississippi River to adjacent estuaries have become core synergistic components of the Louisiana Coastal Master Plan.1 Marsh creation projects are more sustainable when placed near a diversion project that delivers sediment and freshwater, limits saltwater intrusion, or both.2
Two of these aspects come to bear with the West Pointe à la Hache (WPH) Siphon and Outfall Management Project and the Lake Hermitage Marsh Creation Project, in the design of our research objectives.
Lake Hermitage Marsh Creation Project
The Lake Hermitage Marsh Creation Project is within the West Pointe à la Hache Mapping Unit which lost 38 percent of its marsh from 1932 to 1990. By the year 2050, 28 percent of the 1990 marsh acreage is expected to be lost. That loss is expected to occur even with operation of the West Pointe à la Hache Siphon (State project BA-04). Significant marsh loss has occurred south and east of Lake Hermitage and along the eastern lake shoreline. Deterioration of the lake rim has exposed interior marshes to the wave energy of Lake Hermitage and increased tidal exchange. Based on USGS land-water data from 1985 and 2006, the project area has an annual loss rate of -1.64%.
The original project features included dredging in the Mississippi River and pumping sediments via pipeline to create 549 acres of marsh. Additionally, 6,300 feet of shoreline restoration using river material and 7,300 linear feet of terraces were included. An additional 795 acres were added towards the end of the project.
The RESTORE Act Food Web project stations (LHC-natural, LHB-created and LHA-created) are identified on the Lake Hermitage site map, along with the direction toward the West Pointe à la Hache siphon.
Funding from the Louisiana Oil Spill Coordinator's Office, the Louisiana Department of Natural Resources – Office of Coastal Management, and Deepwater Horizon Early Restoration allowed construction of an additional 215 acres of marsh. Terraces were removed from the CWPPRA project to provide an area for marsh creation with Deepwater Horizon Early Restoration funding.
The project area is located in the Barataria Basin, south and east of Lake Hermitage in Plaquemines Parish, Louisiana near the community of West Pointe à la Hache.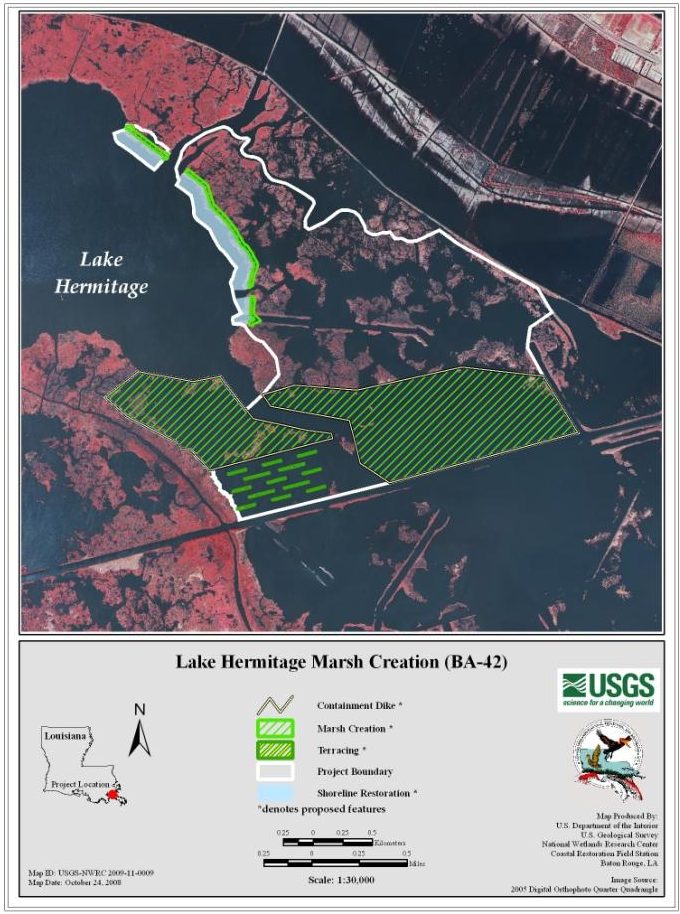 The Louisiana Coastal Wetlands Conservation and Restoration Task Force approved funding for engineering and design in February 2006 and approved construction funding in January 2009. Construction began in February 2012 and was completed in June 2015.
References
1Coastal Protection and Restoration Authority. 2012. Louisiana's Comprehensive Master Plan for a Sustainable Coast. Baton Rouge, Louisiana: CPRA, 188 p.
2Peyronnin, N., M. Green, C.P. Richards, A. Owens, D. Reed, J. Chamberlain, D.G. Groves, W.K Rhinehart, K. Belhadjali. 2013. Louisiana's 2012 Coastal Master Plan: Overview of a Science-Based and Publicly Informed Decision-Making Process. Journal of Coastal Research, Special Issue 67: 1–15.