Timeline
Spring 2016 (Siphon on; stable isotope data collection)
Spring 2018 (Siphon off; field collections)
Spring 2019 (Siphon off; field collections)
Spring 2020 (Siphon off; no collections)
Spring 2021 (Siphon on; anticipated field collections)
Hydrology and Elevation Mapping
(Swenson/Polito)
Primary Producers
(Roberts)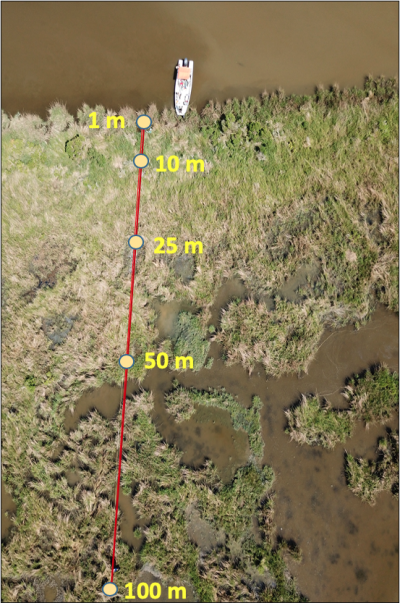 Field Work: May 2018 & 2019
5 distances from edge (1, 10, 25, 50, 100 m)
3 transects in 2018; 2 plots on single transect in 2019
Determine biomass (aboveground clip plot) and collect plants for biomarkers)
Sediment and water column chlorophyll
Ancillary data: organic matter, C and N, bulk density, water content, pore water salinity, pH)
Key Findings
Overall magnitude of aboveground biomass similar between years; no consistent pattern with distance.
Trend of decrease along salinity gradient in 2018, weaker in 2019.
Biomass lower in high elevation restored marsh (LHA) than natural marsh(LHC); Biomass in restored marsh (LHB) more similar to the natural marsh (LHC).
Overall aboveground richness similar between years.
Richness decreases with salinity.
Richness lower in restored marshes than control sites in 2018; species richness was similar at lower elevation restored marsh (LHB) and natural marsh (LHC) compared to the higher elevation restored marsh (LHA) site.
Many species in one of the restored marshes (LHA) were not typical of brackish wetlands.
No clear patterns in benthic chlorophyll by site or distance.
View Station Map
Key Findings
LHA has the lowest biomass (1319-1352 g/m2)
LHB (1571-1950 g/m2) is more like reference sites (LHC: 1814-1808 g/m2; WPH2: 1808-2665 g/m2).
Species Diversity (H') & Similarity (SD)
Slightly higher diversity & species richness in created marshes.
Highest diversity at LHA with many species not typical of wetlands.
LHB is more similar to the reference marshes (88-90%) than it is to LHA (~66%).
Litter Bag Decomposition & Macroinvertebrates
(Lopéz-Duarte, Polito, Roberts)
Field Work: May & July 2019
1 transect per site, 5 distances from edge (1,10,25,50,100*m)
5 replicate Spartina alterniflora litter bags per distance deployed for 2 months
Key Findings
Spartina alterniflora decomposition is highest in marshes that are flooded more due to lower elevation and a larger tidal range
View Station Map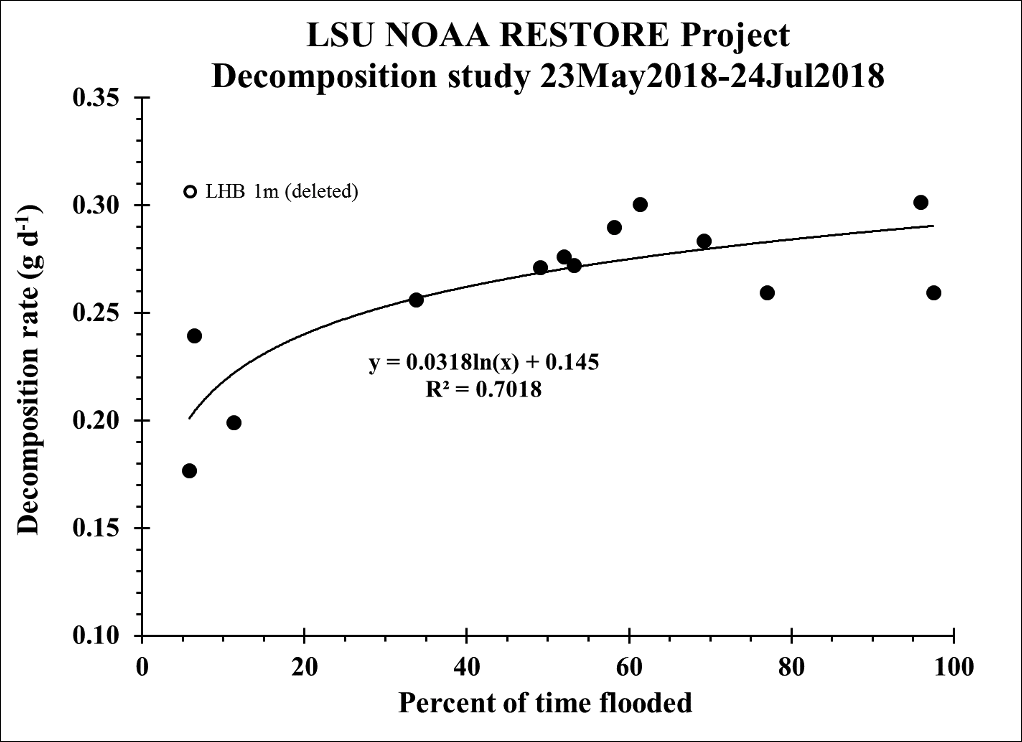 Microbial Community
(Engel)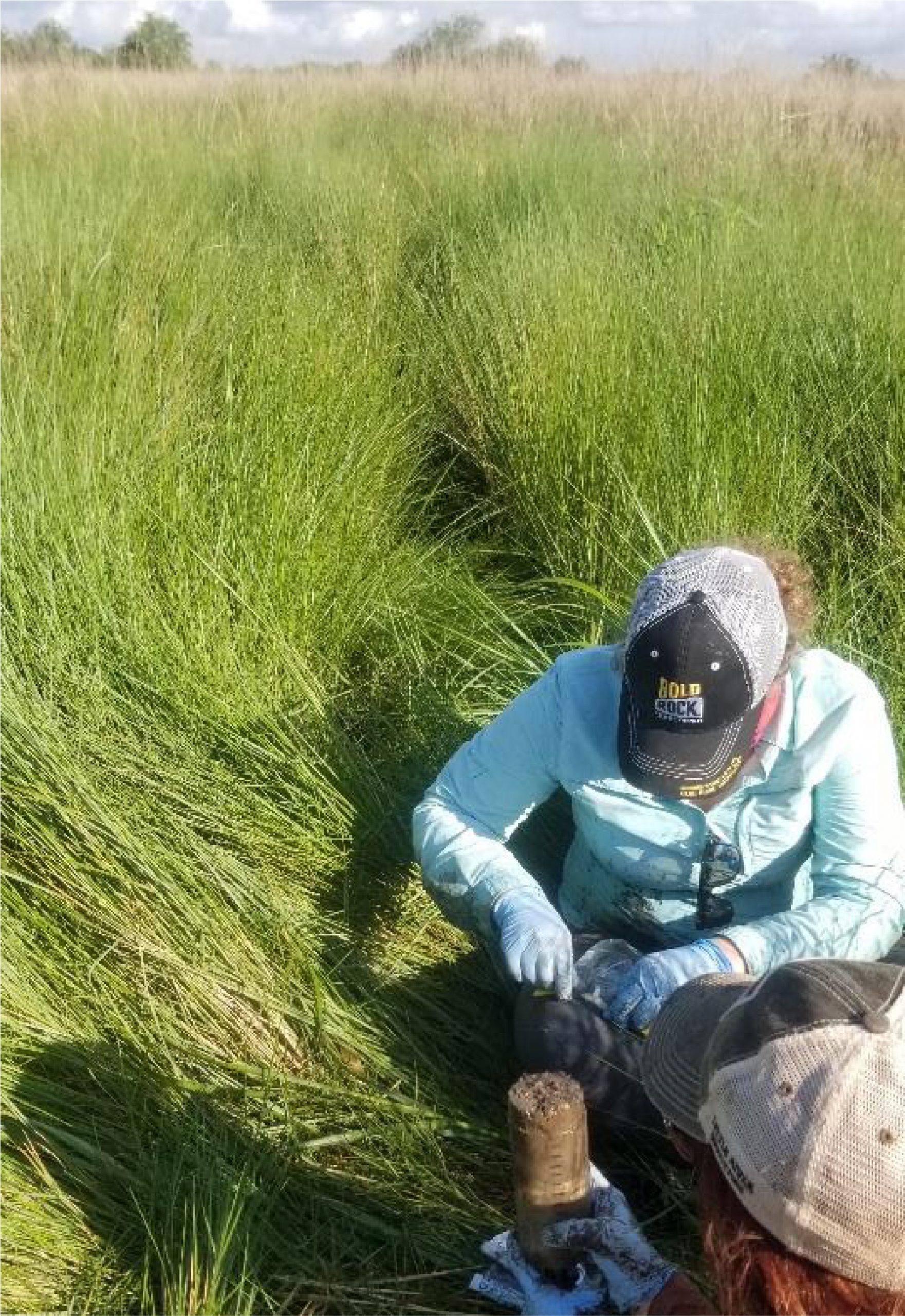 Key Findings
Created marsh soils are fundamentally different than natural soils: lack well-developed peatlayer, wider grain size distributions (and larger overall particle sizes), less organic carbon.
Distinct microbial communities within soils, which affect the types of metabolic processes and microbial community services that influence the marsh habitat through time.
Overall taxonomic diversity similar, but specific genetic groups differed between created & natural marshes
View Station Map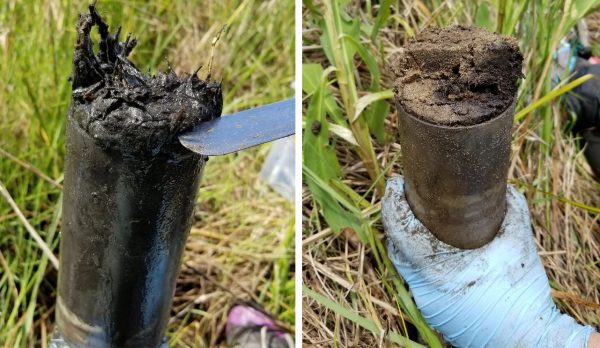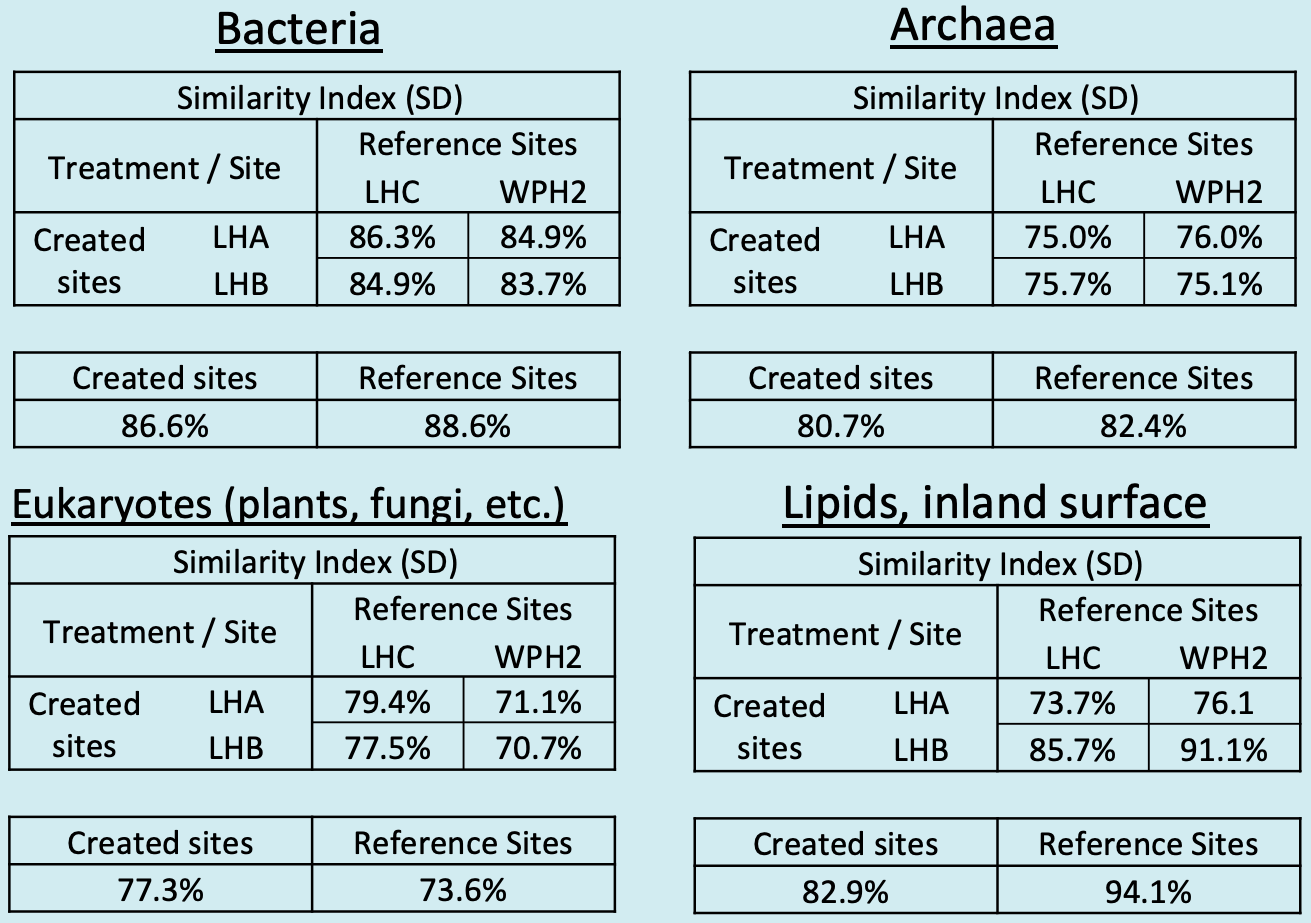 Key Findings
Similar diversity (H') between created and reference sites with some exceptions.
Operational taxonomic units (genetic units) used for comparisons
High community similarity across all sites.
LHA & LHB Bacteria & Archaea are slightly more like each other than reference sites.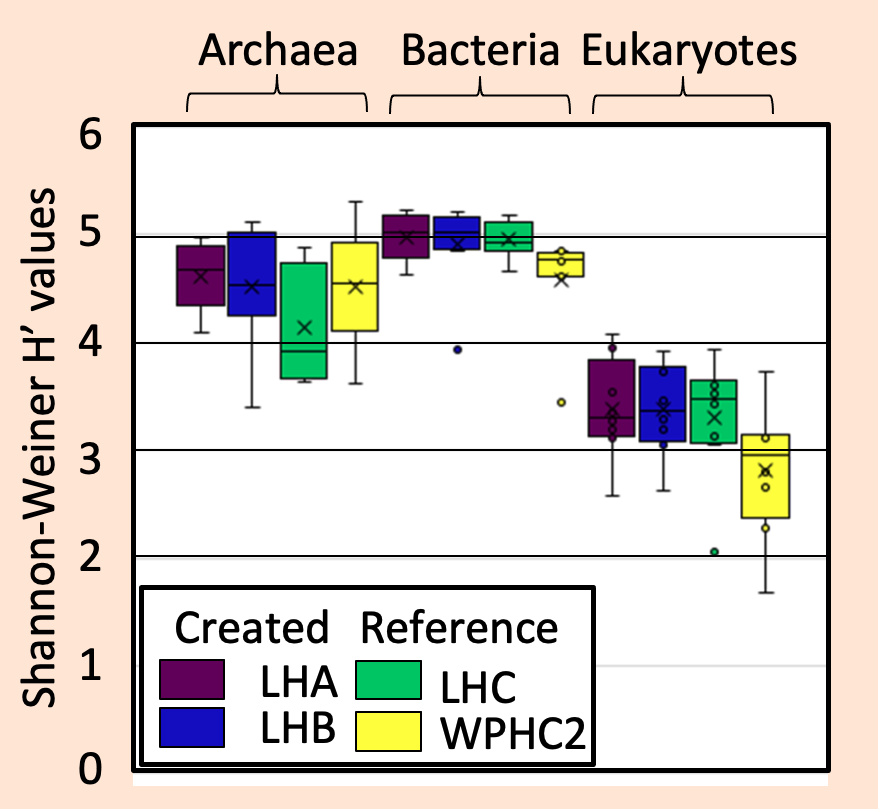 Key Findings
Aboveground plant biomass for the natural marshes was predominately Spartina alterniflora, with other marsh plant species like Spartina patens and Disticlus spicata.
Restored marshes had less traditional marsh vegetation, despite efforts to plant and grow them on the newly constructed marsh platforms.
The elevation of the restored marshes likely affects whether or not S. alterniflora is successful, as S. alterniflora dominates the plant community near the shoreline.
Insects and Spiders
(Hooper-Bùi)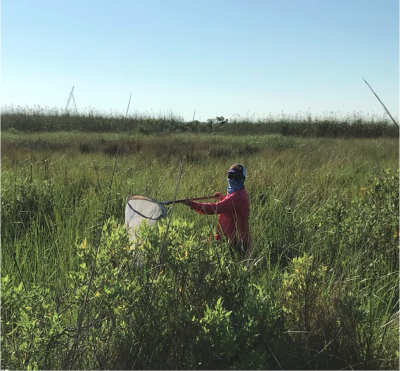 Field Work: May 2019
Emergence traps set Day 1, collected Day 8
4 replicate sweeps at each site for biodiversity
4 replicate sweeps at each site for isotopes
Key Findings
Not all works all the time. We placed emergence traps on the marsh platform on the first day. We collected insects via sweep net for biodiversity and community metrics. Another identical sweep sample was taken 5 m away for the insects for isotopes.
This is the second year (2019) we set the emergence traps. Last year (2018), there were a few insects – flies – in the emergence traps but not enough for isotope analyses. There were no insects in the emergence traps this year, likely because May may be too early in the year. One trap blew into the water on day 3 and was retrieved by the fish group. We added asecond collection of sweeping for isotopes to make up for the low numbers of insects in the emergence traps.
View Station Map
Benthic Infauna
(Rabalais)
Field Work: May 2018 and May 2019
1 transect per site (middle), 2 distances from edge (10 m, 50 m)
5 replicates infauna, TOC, grain size
View Station Map
Trawl and Suction Sampling
(Martin)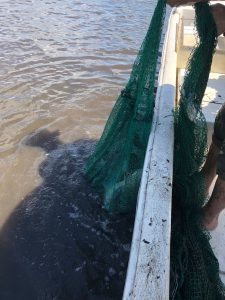 Field Work: May 2018 and May and July 2019
8 trawls/site in years 1 and 2
Year 1 suction, n = 10 at salinity gradient sites
Year 2 suction, n = 9/site
Key Findings
Trawl: Clear differences between years, sites
Nekton community varies among sub-habitats (ANOSIM, Global R=0.333 , p=0.001). Biodiversity is highest in ponds at natural marshes.
We identified a need to incorporate site-specific data (e.g., pond sizes, marsh height) to determine which drivers influence community structure in ponds, creeks, or edges, across sites
View Station Map
Key Findings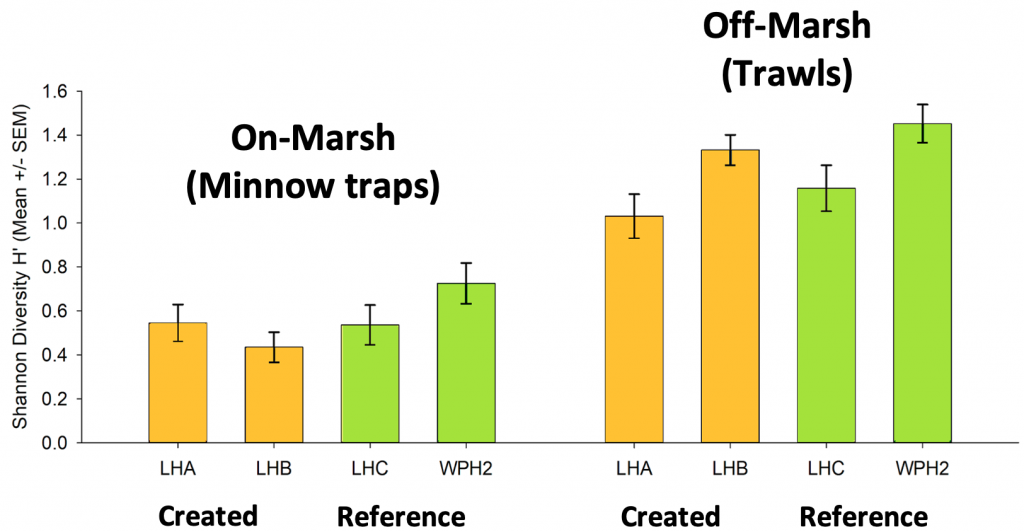 Species Diversity (H')
No differences in diversity between the created & reference sites for both "on-marsh" & "off marsh" nekton communities
Community Similarity (SD)
High similarity across sites (~71-90%)
Nekton communities at created marshes are equally similar to communities at reference marsh as they are to each other.
Biomarkers
(Polito, Olin, Lopéz-Duarte)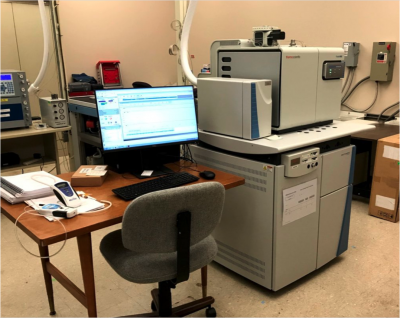 Field Work: May 2019
Collected ~2000+ sample in 2018 & 2019
Fish, invert, plants, submerged aquatic vegetation, algae, benthic microalgae, soil organic matter, particulate organic matter
Lab Work
Processed 1800+ samples from 2018
C&N isotopes: 2016 & 2018 complete
Compound-specific: 2016 complete
Heads collected for otoliths
Key Findings
Aquatic basal carbon sources are more important than terrestrial at all sites.
Similar trophic level but slightly higher use of terrestrial carbon at natural sites relative to created sites.
View Station Map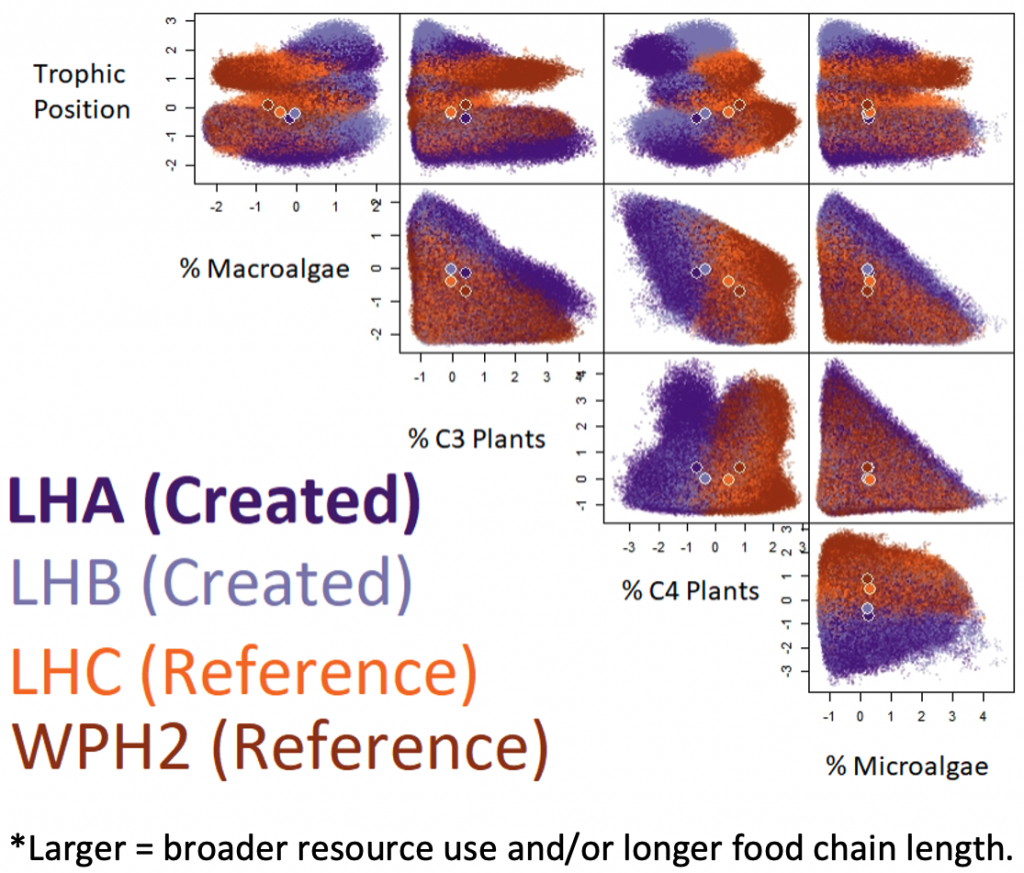 Key Findings
Trophic Hypervolume Size
Reference sites (LHC & WPH2) have the smallest (24.1 & 26.1), LHA the largest (59.9) , and LHB is intermediate (30.6)
Food-Web Similarity (SD)
LHA is least similar to reference sites (18-33%)
LHB is nearly as similar to reference sites as created sites are to each other.
Created sites: wider trophic niches
Created sites: lower C4 plant contribution